Hello and happy December!
As I said before, I want to catch up with all the awards and tags I have been nominated in before the end of the year, so today I'm doing another award. This time I was nominated by the lovely Naemi @A Book Owl's Corner for the Sunshine Blogger Award. Thank you so much!
What is the Sunshine Blogger Award?
The Sunshine Blogger Award is given to those who are creative, positive and inspiring while spreading sunshine to the blogging community.
How does it work?
Thank the blogger(s) who nominated you in a blog post and link back to their blog.
Answer the 11 questions sent by the person who nominated you.
Nominate 11 new blogs to receive the award and write them 11 new questions.
List the rules and display the Sunshine Blogger Award logo in your post and/or on your blog.
Naemi's Questions
1. If a genie granted you three wishes, what would you wish for? (Obviously, the genie has rules that prevent you from asking for more wishes. Sorry.)
I want to refrain from the Miss Universe "I wish for world peace and universal health" stuff and be more selfish with my wishes, but I literally cannot think of anything. I guess I would ask for a couple of hours to be added to every day, with the condition that they'd me hours and I wouldn't be required to do anything. I just need some time to relax. As for my other two wishes… I have no idea!
2. Which book do you think is way overhyped?
I have no idea which books are currently being overhyped, so I'm gonna say Circe by Madeline Miller. I was really hyped to read this one and most people seemed to like it, but I was heavily disappointed. I went into details as to why in my review, but let's just say it didn't live up to my expectations storywise, despite Miller's wonderful prose.
3. If you had to give up watching movies or listening to music for the rest of your life, which would you choose?
Oh, I'd give up movies right away. Don't get me wrong, I love watching movies and I love the cinema experience, but I can't live without music. What am I supposed to do if I can't have music constantly playing while doing things? Stay alone with my thoughts? I don't think so!
4. How do you organize your bookshelf/bookshelves?
I first separate them by genre and then I organise them alphabetically by author. Some of my shelves are short, so the books have to be stacked on top of each other. In that case they're organised by height.
5. What is one of your proudest achievements?
Definitely getting my university degree! Due to the economic crisis, the conditions weren't ideal, but I managed to pass all my classes on the first try and with good grades (mostly). I doubted myself many times throughout those four years, but my hard work paid off and I'm still so proud of it.
6. If you had the chance to redesign the covers for one book or series, what cover-change would you bless us with?
After taking a look at my shelves, I think I'd redesign The Book of Empress Elisabeth by Konstantinos Hristomanos. The edition I own looks like this:
I think we can all agree it's not a pretty cover. If I were to design it, I would probably make it look like a vintage burgundy hardback book with gold calligraphic lettering and a ribbon in place of a bookmark. I would also design items resembling gold metal corner protectors on each corner and put these lovely portraits of Sisi inside the book instead. I want it to have a vinatge diary aesthetic.
(I hope my description makes sense)
7. Which food from your country should foreign readers definitely try?
Oh, I love this question! Not to brag but Greek cuisine is one of the best! I'm sure almost everyone has heard of souvlaki, mousaka and all the other delicious "touristy" dishes, so I'll tell you about my favourite winter comfort food, lahanodolmades. I'm sure you've heard of at least one kind of dolma if you're familiar with any balkan or middle eastern cuisine. We just love stuffing leaves!
Lahanodolmades are stuffed cabbage rolls with juicy mince, rice, and herby filling. They're usually served with avgolemono (an egg-lemon sauce), either as a thin soup or as a thick sauce. Here's a recipe if you want to try them. They're delicious, warm, and comforting!
Since it is the Christmas month I can't help not to also mention melomakarona, one of our traditional Christmas treats. They're aromatic honey cookies with syrup and they're absolutely addicting. No one can resist the deliciousness of good, well-baked melomakarona! Of course, the way my mom makes them is the best, but here's a really good recipe for you to try!
8. What is one of your most unpopular bookish opinions?
I hope everyone wants to speak to me after this, but I really don't see the appeal of Harry Potter. They're good books I guess, but I see nothing in them to obsess over like everyone seems to be doing. Maybe it's because I didn't read them as a child, but I've never been particularly interested in them.
9. Which five emojis and/or GIFs best describe you?
I don't know if they best describe me but these are my five most used emojis: 🥰😂🧿✌🙃
As for gifs: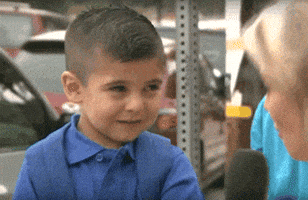 10. A book you think I (and everyone else) should go and read already?
I'm currently forcing my mom to read My Grandmother Asked Me to Tell You She's Sorry by Fredrik Backman, so I'm going to say the same book for you all. It tells a very touching, wonderful story about family, friendship and imagination with emphasis to the relationship between grandparents and their grandkids.
11. Which post that someone else wrote did you love recently?
I feel like I've tagged people in way too many things recently, so I'm not tagging anyone this time. I hope that's ok.
What wishes would you have the genie grant?